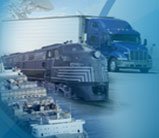 INCOTRANS
specialized in International Transport and Logistics.. established in 1992
Enjoying over 22 years of experience in International Freight
Forwarders,
INCOTRANS
runs the various stages of the Forwarding of goods right from the initial take-over point until delivery at final destination point, including all connected services such as Packing Warehousing, Clearance for Air as well as for Ocean Transportation

Providing the highest level of quality and professional services to our clients through our well trained stuff and according to our previous experience in this field.
Delivering exceptional, personalized, flexible, integrated global logistics solutions.


Pursuing emerging international markets, forecasting international business trends and developing innovative, accountable & efficient technologies.